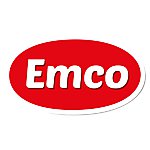 Emco Ltd. is a family owned company based in Prague. Established in 1990, Emco concentrates on manufacturing and distribution of high-quality cereal products. The quality of Emco products is recognized by customers in more than 40 countries worldwide. Products such as müsli, oat meals, cereal flakes mixtures, müsli biscuits, oat flakes etc. represent the healthy lifestyle trend
Product portfolio in Baltic can be seen here - https://gallery.jungent.eu/Portfolio/Emco/

Gluten free products
Part of our factory and the whole production of bars are dedicated entirely to GF. Here we produce three types of bars and
GF granola made with
buckwheat and millet.
High fiber

Many of our products are based on oat which contain beta-glucan fiber. Betaglucans have been found to reduce cholesterol levels.
No palm oil
We try to stop using palm oil because of its negative social and nutritional effects. We have replaced it in most of our products by high oleic rapeseed oil which has significantly less saturated facy acids.
Bio

We are producing Emco as well as private label products with bio and vegan certificates.
Low/no sugar
We do not use artificial sweeteners but constantly decrease sugar levels in all our products. In most of the categories we have also "no added sugar products".
Protein

In our protein products we are using only plant based source of protein